Post by nyigm on Dec 3, 2019 21:59:12 GMT -6
The New York Islanders went into the 1990 Entry Draft with 6 picks, 5 of which were 1st round picks. Before the draft rumors were floating around that the Islanders were looking to trade the 10th pick in the first round along with other picks to obtain a young center that they can build up to a superstar along with recently created prospect Mats Sundin. Would they achieve there goal?
1st round - 3rd overall

Going into the draft the Islanders didn't even have Keith on there draft board as they thought he would be taken 2nd overall by Detroit, but instead they went with Martin Brodeur, which was a shock as they already have a decent young goalie in Tim Cheveldae.
GM Reggie Baldwin was all smiles walking up the podium to announce they will draft Keith Tkachuk.
What do the Islanders get in Keith Tkachuk?
SCOUTING REPORT
One scout said that he is a big body with a lot of toughness and a load of scoring ability. Tkachuk is a protypical power forward. He has a great shot that he doesn't mind firing and loves to play a physical game. His only knock is his skating, but I'm sure that will get better with time.
Mr Randolph said that Keith will probably be a year or 2 away from joining the Islanders.
- - - - - - - - - - - - - - - - - - - - - - - - - - - - - - - - - - - - - - - - - - - - - - - - - - - - - -- -- - - - - - - - --- - -- - -- - - -- - -
" We have a trade to announce"
New York Islanders:
Jimmy Carson
Detroit Red Wings:
Jeff Finley, 10th overall pick, Islanders 3rd round pick (90)
This is the kind of trade that the Isles were looking for. They owe it to there fan base to start winning soon. Picking up Jimmy Carson a 22 year old Center will go along way.
-------------------------------------------------- ---------------------------------------------------------- -------------------------------------------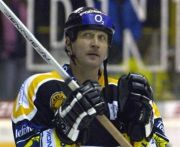 Jiri Slegr (D) 1st round, 18th overall
SCOUTING REPORT
Slegr is a high-level offensive defenseman. He specializes in power play situations and is a smooth and agile skater. He has a very accurate and hard shot, and has been a dangerous point man at the junior level. Only knock is his defensive zone play and physicality could improve.
John Slaney (D) 1st round, 19th overall
SCOUTING REPORT
Slaney could be the complete package. At 6'0 and 200 pounds, He already has JAFHL -ready size and plays with a physical edge to his game. Where he excels is on the offensive side of the ice. Despite his size, he is an excellent skater and rushes the puck often and with confidence each time. He has a bigg shot and excellent vision.
Mark Greig (RW) 1st round, 20th overall
SCOUTING REPORT
Grieg fills a much-needed spot for the Islanders forward depth. He's the most talented Isles prospect at his position, and has high upside. Grieg is a versatile offensive forward. He's a great skater with a good shot, but needs to work on his defensive play.
Paul DiPietro (C) 2nd round, 26th overall
SCOUTING REPORT
DiPietro is an excellent skilled player, DiPietro is undersized (5'8 165 pounds) but he makes up for it with above-average hockey sense — specifically in the offensive zone, very creative with the puck and great in the face off circle.